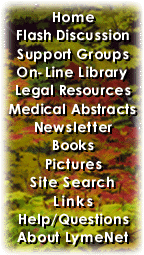 ---
LymeNet on Facebook
---
The Lyme Disease Network receives a commission from Amazon.com for each purchase originating from this site.
Please click here first.
---
Welcome to The Lyme Disease Network,
a non-profit foundation dedicated to public education of
the prevention and treatment of Lyme disease and other tick-borne illnesses.

On the Internet since 1993.

---
LymeNet needs your help:
LymeNet Fund Drive
---
TERMS OF USE
---
LymeNet System
Privacy Policy and Terms of Use

The LymeNet System is provided to you as a public service.
Use of the System is subject to the following terms and privacy commitments.

Privacy
LymeNet may use third-party advertising companies to serve ads when you visit our Web site. These companies may use information (not including your name, address email address or telephone number) about your visits to this and other Web sites in order to provide advertisements about goods and services of interest to you. If you would like more information about this practice and to know your choices about not having this information used by these companies, please click here.
Terms of Use
1. The information on the LymeNet System is provided "as is" without warranties either expressed or implied.
2. The information on the LymeNet system is not intended to be a substitute for an evaluation by a qualified health care professional.
3. Considering the real-time nature of this bulletin board, it is impossible for LymeNet to review messages or confirm the validity of information posted. Please remember that we are not responsible for any messages posted. We do not vouch for or warrant the accuracy, completeness or usefulness of any message, and are not responsible for the contents of any message. The messages express the views of the author of the message, not necessarily the views of LymeNet or any entity associated with LymeNet. Any user who feels that a posted message is objectionable is encouraged to contact us immediately by email. We have the ability to remove objectionable messages and we will make every effort to do so, within a reasonable time frame, if we determine that removal is necessary. This is a manual process, however, so please realize that we may not be able to remove or edit particular messages immediately.
4. Users shall not post or transmit through the LymeNet System any material which violates or infringes in any way upon the rights of others, which is unlawful, threatening, abusive, hateful, harassing, knowingly false, defamatory, sexually oriented, invasive of privacy or publicity rights, vulgar, obscene, profane, or otherwise objectionable, which encourages conduct that would constitute a criminal offense, give rise to civil liability or otherwise violate any law, or which, without LymeNet's express prior approval, contains advertising or any solicitation with respect to products or services. Any conduct by a user that in LymeNet's discretion restricts or inhibits any other user from using or enjoying the LymeNet System Interactive will not be permitted. Users shall not use the LymeNet System to advertise or perform any commercial solicitation. This includes posting links to websites that violate any, or all, of LymeNet's terms.
5. You also agree not to post the last name, or the first name, of any person that treats Lyme disease. Instead, please use the first initial of the last name only, with the state, but not city. For example, Dr. B. in NY. This person's contact information should not be displayed on LymeNet. However, you may email this information. This is to protect those that treat Lyme and the Lyme community.
6. LymeNet shall have the right, but not the obligation, to monitor the content of LymeNet Discussions to determine compliance with this Agreement and any operating rules established by LymeNet and to satisfy any law, regulation or authorized government request. LymeNet shall have the right in its sole discretion to edit, refuse to post or remove any material submitted to or posted on LymeNet Discussions. Without limiting the foregoing, LymeNet shall have the right to remove any material that LymeNet, in its sole discretion, finds to be in violation of the provisions hereof or otherwise objectionable. LymeNet may also delete any message for any or no reason whatsoever. You remain solely responsible for the content of your messages, and you agree to indemnify and hold harmless this BB, UBB Systems, LLC (the makers of the bulletin board software), and their agents with respect to any claim based upon transmission of your message(s).
7. Please note that advertisements, chain letters, pyramid schemes, and solicitations are inappropriate on this BB.
8. LymeNet has the right to change these rules, or anything else, at any time without prior notice.
9. "LymeNet", "lymenet.org", "lyme.net", "lymenet.com", "LymeNet Flash", "Lyme Disease Network", and the LymeNet logos are trademarks of the Lyme Disease Network of NJ, Inc. All Rights Reserved.
Revised July 5, 2020

---
The Lyme Disease Network is a non-profit organization funded by individual donations. If you would like to support the Network and the LymeNet system of Web services, please send your donations to:
The Lyme Disease Network of New Jersey
907 Pebble Creek Court, Pennington, NJ 08534 USA
https://www.lymenet.org/
---
Home | Flash Discussion | Support Groups | On-Line Library | Legal Resources | Medical Abstracts | Newsletter | Books | Pictures | Site Search | Links | Help/Questions | About LymeNet | Contact Us
---
© 1993-2022 The Lyme Disease Network of New Jersey, Inc. - All Rights Reserved.
Use of the LymeNet Site is subject to Terms and Conditions.
---