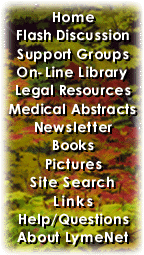 ---
LymeNet on Facebook
---
The Lyme Disease Network receives a commission from Amazon.com for each purchase originating from this site.
Please click here first.
---
Welcome to The Lyme Disease Network,
a non-profit foundation dedicated to public education of
the prevention and treatment of Lyme disease and other tick-borne illnesses.

On the Internet since 1993.

---
LymeNet needs your help:
LymeNet Fund Drive
---
If you would like to add or update a support group, please contact the webmaster.

| | |
| --- | --- |
| Name of Support Group: | Lyme Association of Greater Kansas City, Inc. |
| Contact Person for this Group: | Hot Line Rep |
| Contact Person Telephone: | 913-438-LYME |
| Contact Person E-Mail: | [email protected] |
| City: | Overland Park |
| State or Province: | Kansas |
| Country: | United States |
| Regions of your state / province served by this group (i.e. south-east Pennsylvania): | Missouri and Kansas |
| Your Name: | |
| Your E-Mail Address: | [email protected] |
| Other Information: | |
| URL For Support Group: | http://www.Lymefight.info |
Comments:
Lyme disease/Borreliosis is transmitted by the bite of a tick. Ticks transmit other difficult diseases along with or besides Lyme/borreliosis. Signs and symptoms of Lyme/borreliosis can include fatigue, rash, muscle/joint pain, headache, flu-like and cognitive changes. For some, nervous system problems are the only symptoms. Certain ticks, deer and mice have been identified as important to the maintenance and spread of Lyme disease. Each of these has established populations in MO and KS. Seek medical advice for tick bites and for any suspected tick-borne disease. Different ticks can vector different diseases and one can be infected with more than one tick-borne disease. Email us (Lyme Association/greater KC) at [email protected] or call 913-438-L-Y-M-E for more information. Ask for our free brochure on Lyme disease. Call 1-800-886-L-Y-M-E (the LDF) and ask for their free brochure on tick-borne disease. Write to the LDA (Pat Smith) for more information: P.O. Box 1438, Jackson, New Jersey 08527. On-line, go to www.lymenet.org.

The non-profit Lyme Association of greater KC serves the Missouri and Kansas areas to provide:
-support for patients with tick-borne disease
-monthly meetings (except Nov.)
-information on Lyme/Lyme-related disease(s)
-presentations on Lyme disease to community groups
-a monthly newsletter to members

A recent service project provided over 400 education packets to school nurses in the Greater KC area including Lawrence and Eudora. The association is selling TICK REMOVAL KITS (users are pleased!) in order to raise money for more service projects. Order them for family, group, or class! Contact the association to order. Kits are $4 each. Make check payable to Lyme Association/GKC and mail to Lyme Association; P.O. Box 25853; Overland Park, KS 66225

Organization information

Leader: Ila Utley, President
Lyme Association of Greater Kansas City, Inc.
P. O. Box 25853
Overland Park, KS 66225
Phone: 913-438-LYME
E-Mail:[email protected]

Dues or fees: family membership: $30 annually
Meetings: 6:30 pm - 8:30 pm, fourth Thursday of the month (no meetings in Nov and Dec), at St. Joseph's Hospital Community Center,I-435 & State Line Rd; KC, MO. Drive past the ER to back of hospital. December meeting is usually the first Thursday in December.

For membership

Contact: 913-438-LYME
Address: Missouri and Kansas
Phone: 785-841-3945(Lawrence)
E-Mail: [email protected]


20050817